Producing meaningful outcomes across healthcare, one text at a time
Agile Health has a long record of delivering clinically validated, evidence-based solutions with significant results. Numerous clinical trials and research studies have been published, demonstrating the proven, powerful impact of the Agile solutions.
Results
Research
Resources
Up to
& receive automated curriculum
of enrollees proactively
engage & interact
interactions per participant
or
once per week
participate in
program quizzes
increase in tobacco
cessation rate
reduction in A1C
after 6 months
of participants
decrease A1C
savings in cost
of service
Up to
reduction in hospital admissions
reduction in emergency
department visits
readmission rate at
30 days, a
22%
improvement
readmission rate at
90 days, a
46%
improvement
Describing the evolution of mobile technology usage for Latino patients and comparing findings to national mHealth estimates
Published national estimates do not accurately reflect the mobile technology use of Latino patients served by our public safety-net facility. The difference is greater for older, less educated patients with chronic disease.
Arora S, et al. J Am Med Inform Assoc 2016;23:979–983. doi:10.1093/jamia/ocv203, Brief Communication
View the Study
Mapping mHealth Research:A Decade of Evolution
Research interest in mHealth is growing, together with an increasing complexity in research designs and aim specifications, as well as a diversification of the impact areas. However, new opportunities offered by new mobile technologies do not seem to have been explored thus far. Mapping the evolution of the field allows a better understanding of its strengths and weaknesses and can inform future developments.
J Med Internet Res 2013 | vol. 15 | iss. 5 | e95 | p.1
View the Study
Interventions to increase smoking cessation at the population level: how much progress has been made in the last two decades?
This paper reviews the literature on smoking cessation interventions, with a focus on the last 20 years (1991 to 2010). These two decades witnessed major development in a wide range of cessation interventions, from pharmacotherapy to tobacco price increases. Surveys.
Tobacco Control 2012;21:110e118. doi:10.1136/tobaccocontrol-2011-050371
View the Study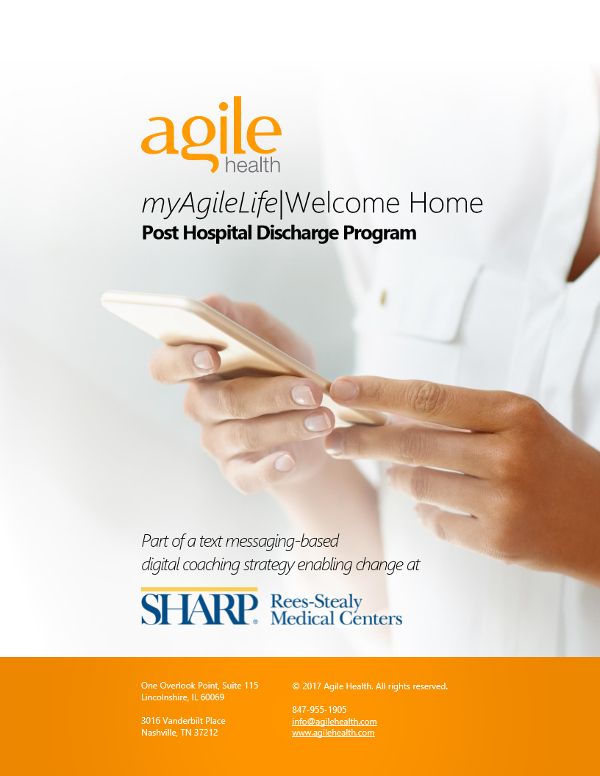 Sharp Rees-Stealy Reduces Readmissions – One Text at a Time
Sharp Rees-Stealy deployed the myAgileLife|Welcome Home program to leverage text messaging to engage, support and enhance the experience of the hundreds of patients discharged per day within the SRS population. The case study demonstrates the continued significant impact our interactive text-messaging program, Welcome Home has on engagement, care cost, operational efficiencies and patient satisfaction.
Download The Case Study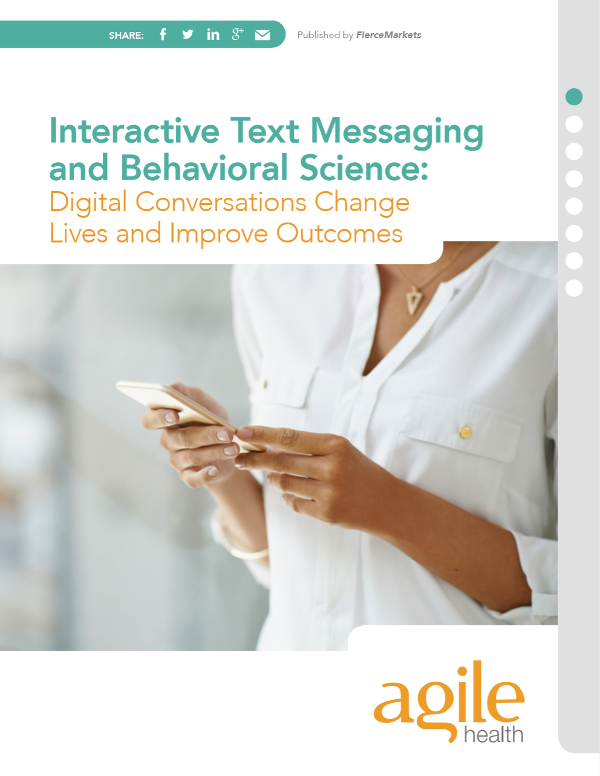 Interactive Text Messaging and Behavioral Science: Digital Conversations Change Lives and Improve Outcomes
Turning engagement into sustained behavior change and meaningful outcomes requires health improvement solutions to go beyond simply providing text messaging as a communication modality. Success comes from leveraging the ubiquitous nature of text while staying true to the proven science of behavior change, creating relevant engaging digital coaching dialogues, and keeping people connected with their care team in the spaces in between care settings.
Download The White Paper